Why Didn't Your Home Sell?
Posted by Robb Harpster on Tuesday, November 21, 2023 at 11:51:37 AM
By Robb Harpster / November 21, 2023
Comment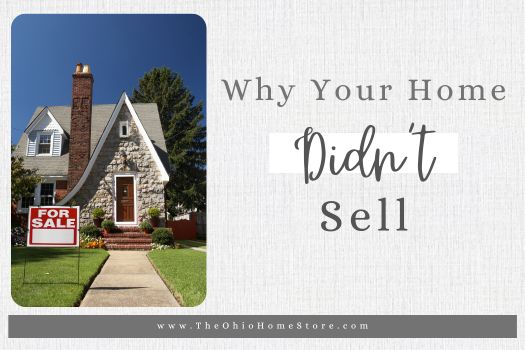 It can be a frustrating and disappointing experience when your house sits on the market for months without any offers – watching
neighbors throughout the area sell and move away! You may have tried everything from lowering the price to updating the kitchen, but nothing seemed to work. There could be several reasons why your house didn't sell, and in this post, we'll explore some common culprits and offer solutions that can help you put your property back on the market with confidence.
#1 - Overpriced
One of the most common reasons why a house doesn't sell is that it's overpriced. While it's understandable that a seller wants to get the best price for their property, setting a price that's too high can deter potential buyers from making an offer. A good real estate agent will conduct a market analysis to determine a fair price for your property based on factors such as location, condition, and recent sales of similar homes in the area, and while it's perfectly fine to "push" the market a bit, you simply can't tell the market what to do!
If you have listed your home for a price significantly above the others in the neighborhood, you may have found yourself doing one, if not many, price reductions throughout your listing period. However, in the current Columbus market, your attempts to reduce may have come too late.
#2 - Poor Presentation
The way your house looks can also affect the ability to sell timely. If your house is cluttered, outdated, or in need of repairs, buyers that are looking for turn-key, or do not have the cash on hand to make immediate repairs/updates are likely to move on to the next listing. Fortunately, these issues are easy to fix. You can declutter your house to create a more spacious and welcoming environment, renovate outdated features, and fix any major repairs that may be required.
If you believe that some updates will have an impact on your sale, be sure to take the ROI (return on investment) into consideration. Stick to projects that have the best return and be sure that you are not putting yourself in a position where you will need to increase the listing price in order to justify the investment.
#3 - Bad Marketing
Effective marketing is key to attracting potential buyers to your property. If your real estate agent wasn't using a variety of marketing methods, such as professional photography, video tours, and social media, your house may not be getting the exposure it needs.
When you interviewed agents to sell your home, did you ask them to show you their marketing plan so you could see how they intended to promote your property to the widest possible audience? As of May 2023, statistics show that 96% of buyers begin their home search online. Simply put - your marketing needs to attract buyers to want to come see your home!
#4 – Bad Timing
The housing market can be affected by factors such as the economy, interest rates, and seasonality. If you listed your house during a slow period, such as the winter months or the first week that interest rates increased, it could be harder to find buyers. If you have the flexibility to wait, consider taking your property off the market and relisting it at a more favorable time.
However, if your agent indicated that timing was the issue – do the research! Was your home the only one that didn't sell? Make sure you run through the full list of possibilities before you decide to wait a month and do the exact same listing again. Maybe you will find that there were other factors contributing to not selling, and this is the perfect opportunity to adjust your approach for next time.
#5 - Uncooperative Seller
Finally, it's important to look at the role you played in the sale of your property. If you 're willing to be flexible with showing times, negotiate on price, or make necessary repairs, buyers are more likely to make an offer. Remember that selling a house requires SOME give and take, and it's essential to work with your real estate agent to create a strategy that works for everyone involved.
There are several reasons why a house may not sell, but with the right approach, it's possible to get your property back on track. By working with a skilled real estate agent and being open to making changes to your marketing strategy, presentation, and pricing, you can increase your chances of finding the right buyer. With patience and perseverance, you'll be able to move on to your next adventure with confidence.
The Harpster & Barker Group have been assisting homeowners, just like you, in the sale of their homes for 30+ years. Our Comprehensive Market Analysis combined with our Marketing Strategy could be just the thing you need to get your home sold!