How to Optimize Your Home's Fall Curb Appeal
Posted by Robb Harpster on Wednesday, November 1, 2023 at 1:17:50 PM
By Robb Harpster / November 1, 2023
Comment
As the seasons change, so do our home's needs. Just as our
wardrobes change to accommodate the colder weather, our
homes need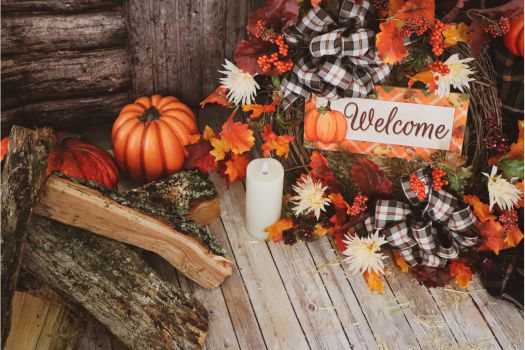 a little extra love and attention too. With fall in full swing, it's the perfect time to give your home's curb appeal a seasonal update. Columbus, Ohio, is known for its beautiful autumn scenery and vibrant fall foliage. There's no better time to optimize your home's fall curb appeal. Whether you're preparing to sell your home or just looking to give your house a little extra love, here are some tips for optimizing your fall curb appeal.
Add Seasonal Flowers and Plants:
Fall is known for its beautiful and vibrant colors. Adding seasonal flowers and plants to your home's exterior is a quick and easy way to update your curb appeal. Consider adding mums, pansies, or other fall flowers to your porch or garden. These plants add a pop of color that is sure to catch the eye of anyone passing by. Make sure to choose plants that are suited for the climate in Columbus.
Update Your Front Door:
Your front door is the centerpiece of your home's exterior. Why not give it a little extra attention this fall? Consider updating your door with a fresh coat of paint in a seasonal color like burnt orange or deep red. You can also update your door hardware with a new knob or handle in a warm-tone metal like copper or bronze. Adding a seasonal wreath or other decor is another easy and inexpensive way to update your front door and add some extra curb appeal.
Lighting:
With daylight savings time shifting our hours of sunlight, lighting plays a vital role in your home's fall curb appeal. Consider updating your exterior lighting with new fixtures or bulbs. Lighting not only adds to the ambiance of your home, but it also increases safety and security. You can also add string lights or lanterns to your outdoor space to create a cozy and inviting atmosphere.
Add Seasonal Decor:
Adding seasonal decor to your home's exterior is a fun way to celebrate the changing seasons. Consider adding a pumpkin or two to your front steps or porch. You can also add a seasonal doormat or other decor like a scarecrow or fall-themed wreath. These small touches add a personal and homey feel to your home's exterior that is sure to be appreciated by all who pass by.
Maintain Your Lawn and Landscaping:
Keeping up with your lawn and landscaping is a year-round task, but it's especially important in the fall. Keep your lawn and landscaping looking neat and tidy by raking up leaves and debris. Maintain your lawn by cutting it regularly and adding grass seed to any bare spots. Keeping your lawn and landscaping in good condition not only increases your home's curb appeal but also protects its value.
Updating your home's fall curb appeal doesn't have to be expensive or time-consuming. With these simple tips, anyone can give their home a little extra love this season. By adding seasonal plants, updating your front door, improving your lighting, adding seasonal decor, and maintaining your lawn and landscaping, your home will be ready to charm anyone who passes by. Columbus is known for its beautiful fall foliage, so why not make sure your home is looking its best this season? By following these easy tips, you're sure to impress your neighbors and anyone else who passes by your home.